Learn basic skills in aircraft general mechanics, including common safety practices used when working on and around aircraft and related support equipment, how to identify and use applicable maintenance publications and documents, and knowledge and understanding of Federal Aviation Administration regulations. This program is designed to expose students to aircraft maintenance and will give them the opportunity to continue in the Aviation Technology program for Airframe and Powerplant (A&P) certification.
---
JTED helped me find what I was looking for, if you could take it, you could make it. It gives you a good sense of freedom once you accomplish that because you put all that time and effort in and it's on your own accord that you were able to accomplish this."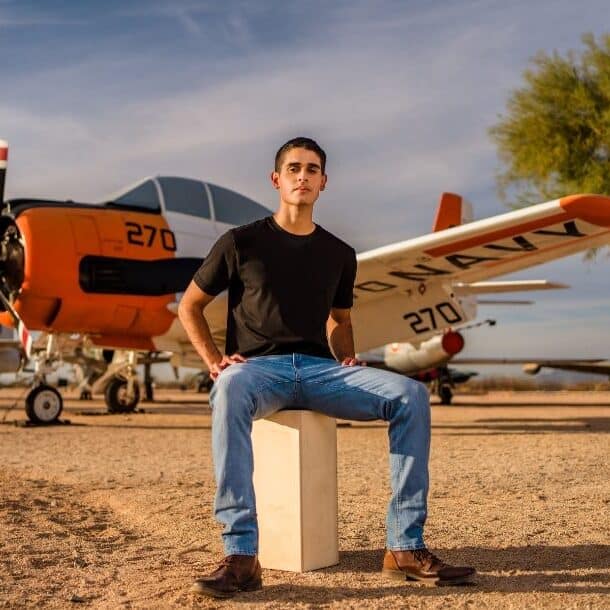 Eligibility
Grades 10-12
Students may complete Year 1 with JTED and can continue in the college program as a graduate.
Other Requirements
JTED & PCC onboarding requirements
Application to PCC (tuition is paid by JTED)
Attend New Student Orientation for JTED @ PCC students
Complete Reading, Writing and Math placement tests

Students must place into REA112 & MAT092 or higher (college level reading & HS Algebra)
Things to Consider
In this program you are a high school student and a college student. Your performance is reflected on your transcript for your high school and for Pima Community College. Your grades for this course will impact your college GPA.
JTED pays for the college tuition for this program if not a high school graduate.
Due to FAA regulations – students in Aviation are only allowed to miss two classes a semester.
---
Direct Employment
Aircraft Panel Technician
Aircraft Reclamation
---
Jobs Available After Additional or Advanced Training
Aviation Maintenance Technician (A&P Mechanic)
Aircraft Avionics Technician
Aircraft Sheet Metal Technician
---
Locations
JTED @ Pima Community College (Aviation Center)
Schedule Availability
Exploration Phase:
Tuesdays & Thursdays from 4:10 to 7 p.m.
General Mechanic Phase:
Monday through Thursday from 4:10 to 7 p.m.
---
Program Completion/Sequence
Year 1
Sophomore Year
Fall

AVM100A – Aircraft Maintenance Fundamentals 1

Spring

AVM100B – Aircraft Maintenance Fundamentals 2
Year 2
Junior Year
Fall

GTM105V – Applied Technical Math for Aviation
AVM202 – Aviation Safety

Spring

AVM110 – Aircraft Blueprint Reading
AVM205 – Motion Dynamics
Year 3
Senior Year
Fall

AVM114 – Regulatory Requirements
AVM206 – Materials & Processes

Spring

AVM207 – Weight & Balance
AVM208 – Basic Electricity
Entrance Requirements for Year 2
Students who have successfully completed year 1 of the program are eligible to enter year 2 and beyond.
Aircraft General Mechanics Year 1 Students must place into REA 112 & MAT 092 or higher
Certification
Airframe and Powerplant
Aircraft General Mechanics*
*Only available to students who apply for PCC graduation.
---
More Information
Uniform
Non-Synthetic clothing

Examples: Cotton, wool, linen, silk, cashmere, bamboo fiber

Closed toed shoes
Aviation shirt – provided by PCC
---
Beneficial Classes to Take in High School
CTE Classes
Air Transportation
Automotive Technology
Automotive Collision Repair
Precision Manufacturing
---
Find your true future calling through Pima JTED
---